This article is about stage. For a film, see Kickassia (film).
Kickassia is the Nostalgia Critic's stage in Smash Bros. Lawl. This stage is based off of the That Guy with the Glasses' second year anniversary special of the same name.
The stage is flat and simple, with the hazard being explosions occurring randomly.
Kruel KO
Edit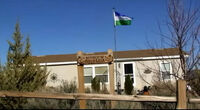 Ad blocker interference detected!
Wikia is a free-to-use site that makes money from advertising. We have a modified experience for viewers using ad blockers

Wikia is not accessible if you've made further modifications. Remove the custom ad blocker rule(s) and the page will load as expected.